News
LUXURY TRAVEL GUIDE
2018 Winner!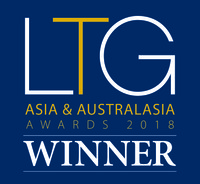 CLARE VALLEY MOTEL- WINNER
- AFFORDABLE LUXURY HOTEL OF THE YEAR –
SOUTH AUSTRALIA - AUSTRALIA

The Luxury Travel Guide Awards represent the pinnacle of hospitality achievement, championing the best in their respective fields; therefore to come out on top is truly an achievement you should be proud of. We are delighted to pay tribute to and commend all those who have excelled in the industry. This year has seen an unprecedented number of shortlisted companies, providing strong competition in every category.
Telstra Australian Business Awards 2014
Messages of Support
Staff celebrating our Telstra SA Small Business Award.
Below are some of the lovely comments that were forwarded for the Motel at the 2014 Telstra Australian Business Awards. Thank you to everyone who continues to support us
Congratulations on winning the State Award for South Australia. Good luck for the Nationals, you are a true Icon of Tourism in the Clare Valley. - Dex Nitschke
Love the Clare Valley Motel, it will always have a special place in my heart because my fiancée proposed to me there! - Amanda Baker
Feels like a home away from home. - Des & Gwen Baker
Congratulations on everything you have done with the business, you have made it into a special place. - Baker Solutions Group
Best of luck to the Clare Valley Motel, a great place to stay in an amazing South Australian wine region. Isn't it time you visited? - SA Tourism Industry Council
Good luck Clare Valley Motel, very proud of your achievement. - Maureen Minney
Best of luck Clare Valley Motel. - Mark & Lindy Fielke
Congratulations to the Clare Valley Motel Team, especially to Jan & Lee for their vision, hard work and fantastic customer service! - Cath Duncan
We love the Clare Valley Motel!!! - Graham and Miao
Wishing you all the best and hope you are successful in winning this well-deserved Award for your fantastic Clare Valley Motel. - The Riesling Trail Team, Clare Valley SA.
Top in the state, now for the National title. Go Lee and Jan. - Brian and Eleanore Beyer
Taylors Wines proudly supplying award winning wines to the Clare Valley Motel, wishing the team every success! - Taylors Wines
Best of luck Jan will have to make the trip and check out this fantastic South Australian Asset - Simone Douglas, Social Media AOK.
Congratulations Jan and Lee, wishing you all the very best for the big one. Lots of hard work has paid off for you both. - Katrina Nitschke
Congrats! You are so deserving! Good luck and enjoy the night! - Julie Allerton
Little Brampton Wines Congratulate Lee & Jan from Clare Valley Motel and wish you every success tonight! Good luck and enjoy a glass, it's great working with you, cheers! - Pamela Schwarz
Congratulations to Lee & Jan, well done for all the hard work you do for the Clare Valley. Enjoy the night with a glass of Clare Shiraz. All the Best Pamela. - Little Brampton Wines
Wishing Jan and Lee the very best of luck on your night of nights! We are thinking of you. - Julie and Neil Clarke
Good luck Lee & Jan, fingers, toes and paws are crossed for you! - Fran
Jan and Lee, wishing you and your team at Clare Valley Motel a great night and best of luck. - Kathy Edwards
Good luck to Lee, Jan and all the Team at the Clare Valley Motel! - Wayne van Elsen
It had long since come to my attention that people of accomplishment rarely sat back and let things happen to them. They went out and happened to things. - LDaV, Handley Accounting Services.
Congratulations Jan, Lee and team. We are all behind you! The Motel is sensational and this award is a small step in recognising your efforts. Best of luck! - Mel & Riki
All the very best for the Awards, you are an example to all other SME's on what is possible. Success is what you earn not what your given. - Martin Millane
To Jan and Lee, awesome effort! All the very best on the night. Have a wonderful time at the Awards and remember you're already winners. - Karen, Copy with Cream.
Wishing you the best night, congratulations on becoming a National finalist, it is your reward for the hard yards. - The team from BRACE
Go girl! It's your time to shine. A great opportunity comes along every day, it takes hard work to convert that into a great business. Well done. - Debbie Williams, Propertypreneurs.
Hope you have a great night and do extremely well. - Jim Handley, Handley Accounting Services.
The total package epitomising all that the Awards celebrate and aspire to represent. Jan and Lee are the consummate business role models. Continued success! - Pauline de Vries
Best wishes Jan and Lee from Port Adelaide Bookkeeping. - Lorraine & Terry George
Congratulations, we are all very proud of you and good luck. Cheers. - Bruce McFarlane
Lee and Jan Stokes and the team at Clare Valley Motel deserve every success! Country hospitality at its best, very best wishes Anthony, Michele and Team REDARC. - Anthony & Michele Kittel
Best wishes and good luck at the Awards! You are winners no matter what the outcome! - Pippa Webb
2014 TRIP ADVISOR WINNER
Clare Valley motel is proud to announce that for the Third year in a row, we have been awarded the 2014 Trip Advisor 'Certificate of Excellence'.
Thank you to all of our past guests that have reviewed the motel and all of your lovely comments. We could not have done this without you!
SA TOURISM AWARD SILVER MEDALLIST
2 Years in a row!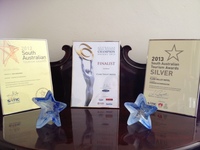 Clare Valley Motel is proud to announce it was the recipient of the 2013 South Australian Tourism Awards Silver Medal. We were also presented with the same award in 2012. Good Luck in 2014, can we make it a Gold!